Collection: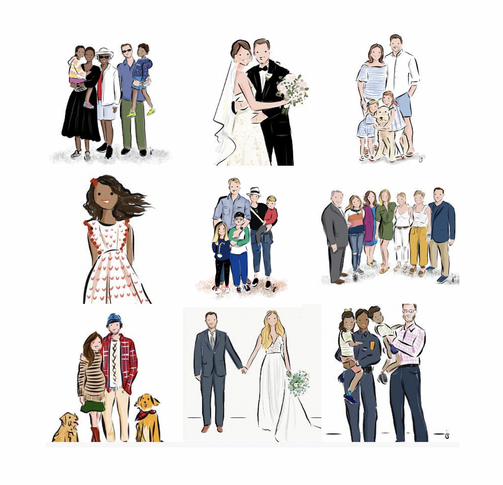 Collection:
Custom Digital Portaits
Custom Digital Portaits
Regular price

Sale price

$50.00
Custom digital illustration (created on iPad) and printed on archival 140 lb archival paper. Finished size 8x10". 

PLEASE READ CAREFULLY BEFORE ORDERING -
Photo must be ready when ordering
Photo must be full length, head to toe and color
You will be paying a $50 deposit and invoiced for balance after I review the photo
Current wait time is about 2 months
Photos can be emailed to me at Hello@jennifervallez.com or uploaded here
PRICING IS A-LA-CART
**One subject portrait (adult or child) $80**
Multiple subject portrait - pricing as follows:
Each adult - $80/each
Each child (15 and younger) - $60/each
Favorite toy, stuffed animal, prop (ie soccer ball) starts at $10/each - if this is a more complex item, the price can go up from there. I would need to see a photo.
Wedding attire & flowers -$15
Small cat or dog - $30 each

Large dog - $40
Digital Image for personal use - $5
PRICES ARE FOR PERSONAL ORDERS ONLY. Custom art for business purposes (blogs, logos, etc) can be quoted upon request. I do not permit my artwork to be resold.
NOTE CARDS can be added on for an additional $18 + 3.50 shipping.